14 days visa
With some exceptions for GCC nationals and other people traveling from thirty three countries spread across America, Europe, and far East who are eligible for a visa on arrival, a valid visa – otherwise – is obligatory for all guests to the UAE. The UAE 14 days visa is in the type of electronic visa. There are different types of visas, and therefore the visitor's purpose of entry typically determines the kind of visa that one should apply for. In fact, the conditions and documentation procedures vary from one visa service to another. There are certain conditions that apply to all Dubai 14 days visa services. As an example, in order to apply for a Dubai 14 day visa on-line, the person, along with holding a valid passport, should make sure that he has not been banned from entering the UAE or deported from the country before.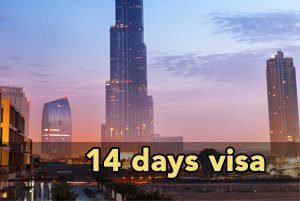 Our dedicated team of visa consultants boasting an exemplary record in managing all sorts of services related to Dubai visa are here to assist you. With an in depth and up-to-date information of immigration rules and regulations, we at Jashan Tourism focus on all types of visa application, let it be tourist visa, 14-day, 30-day, 90-day or 96 hour visa. whether you intend to travel Dubai or already settled here and wish your family or friends to join you, taking advantage of our on time visa service in Dubai will eliminate hassles and ease your possibilities of getting your Dubai tourist visa application within a minimal time-frame. Besides guiding you thru the 14 day visa procedures from start to finish, we also provide expert help in applications to extend your stay in the UAE.
Your Dubai visa process starts once we receive the clear scanned copies of your following:
Documents:
Passport size Photograph
Passport front page
Passport last page
Passport page with exit stamp, if you've visited Dubai before
Confirmed two way air tickets
Special Note
The validity of passport must be minimum 90 days.
The passport shouldn't be in hand written format if possible.
The documents submitted shouldn't be blurred or weary.
If any of the above requirements are not matching with your current situation you may contact us at veenu@jashantourism.com
Guarantor's Document:
Documents for visitors with sponsor In UAE.
Guarantor's Passport copy and visa page copy (both valid for minimum three months).
A security cheque of AED 5500 for every visa, this cheque are used only if the traveller is absconded.
Last month statement supporting the cheque drawn from the same account with positive balance transactions in it.
Documents for visitors with NO sponsor in UAE.
Family visitors may not need to put any deposit instead they'll make the hotel / Airline / Tour booking with us if they wish to book with us.
Individual guests may have to put deposit and this may vary for every nationality, please contact us for additional info through live chat or email us at veenu@jashantourism.com
Individual traveller may have to deposit an amount of 5500 AED as a deposit. This Entire amount will be returned back to you once your Exit from the Country. Once we will receive the scanned passport page showing the exit stamp of UAE. This is done to confirm that there are no Travelers who stay back/abscond even after the period mentioned in his/her Visa is over.
Special Note:
You may book the two way ticket and hotel with us at special costs if you wish to.
Indian national passengers may not need to submit guarantee documents once reviewed by our visa team.
For passengers traveling in families with youngsters may not need to submit guarantee documents.
Passengers who have already reserved hotel, excursions with us need not to provide any guarantee documents.